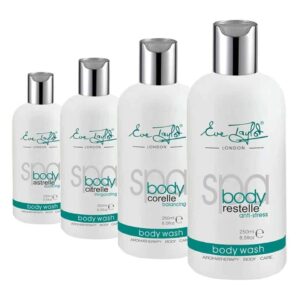 Introducing our NEW Restelle Body Wash and our NEW look Astrelle, Citrelle & Corelle!
We are extremely excited to unveil our new look Astrelle, Citrelle, and Corelle body washed which have now been integrated as part of the Spa Body Family and are joined by a new family member Restelle.
Restelle body wash draws upon the success of our ever popular Anti-Stress body massage oil being launched last year as a retail option; and so we have now extended this by specially formulating the anti-stress blend into a body wash option for you and your clients to enjoy.
Our body washes leave the skin super clean and moisturized, and may be used in both shower or bath. Simply dispense into the hands, foam with water and cleanse the body; alternatively dispense onto a dampened wash cloth, exfoliating cloth or sponge. Follow with Spa Body Serum and Spa Body Moisturizer.