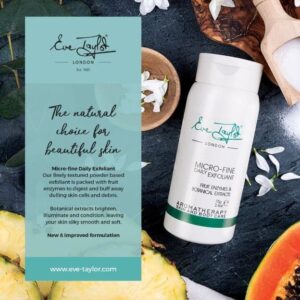 Our new and improved formulation offers even brighter, smoother, softer skin.
Our finely textured powder based exfoliant is bursting with Pineapple and Papaya, rich in proteolytic enzymes to digest, dissolve and buff away dulling skin cells and debris.
A unique alpine plant complex of Mallow, Yarrow, Lemon Balm, Cowslip and Speedwell extracts brighten, illuminate and condition leaving the skin silky smooth and soft.
Essential oils of Eucalyptus and Bergamot offer a refreshing clean aromatic experience.
Micro-fine Daily Exfoliant is suitable for all skin types and conditions, and especially effective for those with sensitive and rosacea type skin.
The ultra gentle yet highly effective formulation may be used on a daily basis and may be used as a stand alone exfoliant or mixed into cleanser for a polishing cleansing effect.